For many people, their teeth have always been a problem. Regular brushing doesn't help when it comes to teeth that are missing, broken or decaying. Others have dentures that don't fit well, and some have lost teeth due to an accident or assault.
Amazingly, there is one solution to all these problems; All-On-4™ dental implants.
What is All-on-4™?
All-On-4™ is a cost-effective way to replace all of your teeth or dentures with a full fixed bridge. Instead of replacing each tooth individually with a dental implant, this bridge can be supported by as little as four implants.
Because there are significantly fewer implants needed, this revolutionary technique is a lot more economically viable than conventional implant bridges, making it affordable to practically everyone. And because there is less work involved, the results are immediate. With All-On-4™, you can receive new teeth in as little as one day!
How do All-on-4™ Dental Implants work?
In most cases (even the most difficult ones) we can place four implants and restore a full arch of teeth without bone grafting. This is accomplished by the special placement and angulation of the implants which takes maximum advantage of the available bone without grafting.
The use of the All-On-4™ technique can eliminate the need for bone grafting in more than 95% of full arch cases. Research done by Nobel Biocare and several universities worldwide show that, in most cases, four implants placed according to the All-On-4™ technique are very effective and successful in supporting a full arch fixed bridge in either jaw.
As of 2016, more than 100,000 patients worldwide have been treated with the All-On-4™ treatment concept.
Why is All-on-4™ preferable to dentures?
All-On-4™ teeth are the closest thing possible to natural teeth in terms of look, feel and function. They are brushed and cleaned like normal teeth, and can handle any food that natural teeth can handle.
Dentures come with their own problems. They need to be taken out each night and cleaned, and as such often slip or come loose even under normal use. Even when using adhesives, many people find simple things like eating and laughing can be a challenge when using dentures.
Many foods are off-limits when eating with dentures, but that's not a problem for All-On-4™ dental implants. The bridge allows you to bite with much more force than dentures because the stress is transferred directly to the bone rather than into the gum. This means you can eat almost all of your favourite foods without worrying about your teeth.
Immediate results
The beauty of this remarkable new technique is in the immediate effects. You can literally walk out of our Sydney clinic with new teeth the very same day! By changing your smile, you can change your life – and notice the results immediately.
A beautiful smile can give you confidence you never knew was possible. Relationships, careers, activities… they are all directly linked to confidence. And it's also been scientifically proven that smiling more makes you happier!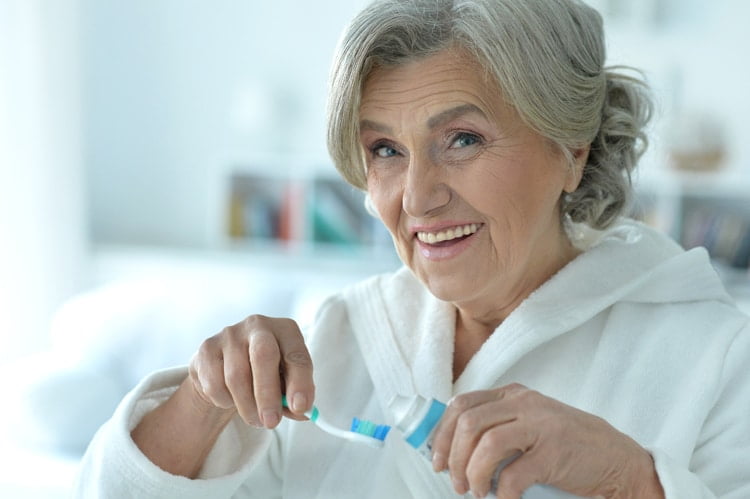 Why choose SDAI?
When we say we are one of the very best in Australia when it comes to dental implants, we mean it. Dr Dean Licenblat completed a Masters of Oral Implantology at Goethe University in Frankfurt, Germany, a specialty which currently doesn't even exist in Australia.
We are ahead of the curve when it comes to dental implants, being only one of a handful of practices in Australia to be a member of 'The Leading Implant Centres of the World'. This award is given only to the top tier dental implant practices.
Everything we do here at SDAI is permanent – we don't believe in temporary measures. Our All-On-4™ treatment comes from Nobel Biocare, the very best Swedish Implants on the market, and all our implants are guaranteed for life.
If your teeth have always held you back from reaching full levels of confidence, then our All-On-4™ dental implants solution might just change your life.  Give us a call today and let's have a chat about what we can do for you – and your smile.