We've discussed before why dental implants are the best choice when it comes to replacing teeth, but for many, the option is immediately ruled out due to the suspected costs involved. The truth is, with advancements in modern technology and practices, dental implants cost is nowhere near as expensive as it once was.
What are dental implants
Dental implants are a step up from false teeth, both in aesthetics and from a practical standpoint.
Traditional false teeth fit over gums and can be removed at any time. Dental implants, however, are fixed permanently to the jawbone and can't be removed at will.
They are designed to look and act just like natural teeth and can be fitted individually, or as a complete set.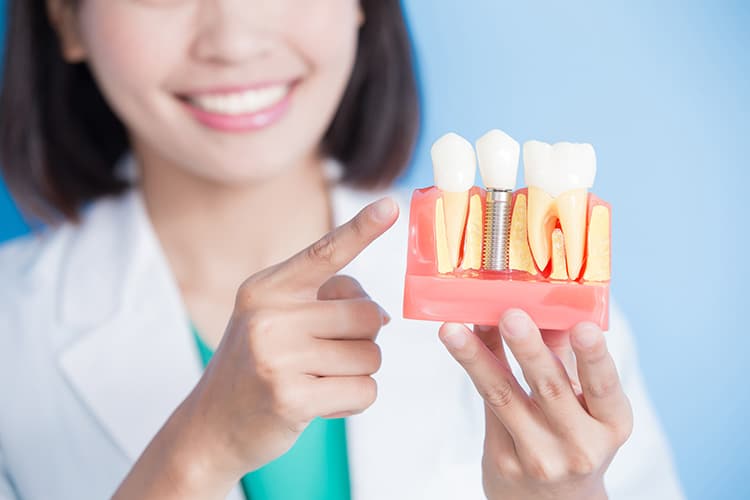 Why people are choosing dental implants
There are many advantages of dental implants over traditional false teeth.
Typically, dentures don't allow you to enjoy food as much – people with false teeth need to be careful about what they eat – but with implants, you can eat whatever you like as you would with your own natural teeth.
Dental implants are also made for life. If you look after them as you would your own teeth, they shouldn't cause any problems. Dentures, on the other hand, need constant cleaning and tend to loosen over time. You need regular trips back to your dentist for a "tune-up", so they can be refitted and reshaped.
Dental implants work better, last longer and are healthier for you, and of course, unlike dentures, they're not going to fall out at inappropriate moments and cause embarrassment!
The cost of dental implants
In the same way as having your car repaired isn't a simple, one-price-fits-all solution, dental implants costs vary too..
A cracked windscreen is cheaper to fix than a cracked radiator, and by the same reasoning, different types of implants will result in different overall costs.
Everyone is different, and each person has their own unique needs when it comes to dental treatments.
One dental implant might be all you need for a missing tooth, but if you've had serious trauma or a devastating medical condition, then replacing all your teeth will obviously be more expensive.
The only way to get an accurate picture and quotation for work is through an initial consultation, which we are happy to do.
The reason why dental implants cost less than you think
While it's true that dental implants cost more than typical dentures, the price may not be as high as most people think.
Years ago the cost was pretty high, and this is what people tend to remember, but today the price has dropped significantly due to several reasons.
For a start, the technology involved has decreased in price, allowing those savings to be passed onto the patient. And while the price has gone down, the quality and durability of the materials used have gone up.
On top of that, the number of dental practices who specialise in implants has increased dramatically, and with an increase in availability, dental implants cost has decreased.
Again, exact figures can't be given because each case is different, so the best thing to do is make an appointment for a quotation.
Transform your life with dental implants
We all have a budget, but sometimes we don't appreciate the value of something compared to its cost.
Dental implants are a great example of that
Some people may be put off by the price tag, but then will happily spend more than that on a week-long holiday.
And a week on the Gold Coast is just that; a week.
Dental Implants are for life.
As a life-long investment, they're hard to beat.
They look, feel, and work just like real teeth, and give you confidence that only comes with a radiant smile.
If you would like to know more about how we can help change your life with implants, then contact us today. Not only are our treatments more affordable than ever, we also offer payment plans and interest free finance!
Call us today and we'll be happy to have a chat or bring you in for a quick consultation.
Remember, dental implants cost less than you think!